The serum that everyone has dreamed of at least once in their life. We always talk about draining body creams but no one has ever gone so far as to formulate a draining face serum.
Sale price
€29,90
Regular price
Unit price
per
/ 30ml
Dimmi di più

blue light protection

collagen synthesis

firming

genderless

hydration

increases skin density

stimulates lipolysis

suitable for pregnant women

suitable for sensitive skin

treatment

volume reduction

Soothing

From today there is DRENUM, the LAYLASKIN face draining serum, a mixture of active ingredients capable of draining excess fluids especially in the lower part of the face (jaw, chin, neck). Thanks to the NIO-LIPACTIVE niosome (niosomal vesicles with caffeine, aescin and Coleus extract), the enhanced and bioavailable caffeine and the draining action of the rowan buds, we now have an infallible weapon to combat morning swelling. Naturally, the niosome will not only fight retention, but at the same time will firm and compact the areas of the face treated with DRENUM. It seems like a dream? No it's LAYLASKIN. 98% natural.
View full details
Collapsible content
It works because it contains

NIO-LIPACTIVE NIOSOMA: Active niosome to increase lipolysis and reduce tissue edema. Thanks to its specific and synergistic composition based on Caffeine, Beta-escin and Forskolin root extract, it acts to increase lipolysis, improving microcirculation with reduction of tissue edema (swelling). Caffeine, beta-escin and Forskolin extract are encapsulated inside elastic niosomal vesicles which allow penetration up to the epidermis where they can exert their effectiveness. in excess. Botanical extract obtained from organically grown tree buds. Reduces face volumes by draining excess liquids.
CAFEISILANE™
certified organic: Silicon-enhanced caffeine has the ability to penetrate faster to promote lipolysis and drainage of excess liquids. An active ingredient based on organic silicon which enhances the caffeine with which it is combined. In the dermis, the silicon contained in DRENUM stimulates the activity of fibroblasts and increases the natural synthesis of collagen for firmer and firmer skin. It also keeps the collagen fibers firm, fights the effects of gravity and provides good skin elasticity. Silicon-enhanced caffeine has the ability to penetrate faster to promote lipolysis and drainage of excess liquids
BLUE LIGHT PROTECTION: Protection from pollution and blue lights. Oily extract of rice and soy. 100% natural active ingredient capable of protecting the skin from immunosuppression induced by UVA radiation by counteracting skin aging and promoting the production of HSP (HEAT SHOCK PROTEINS) whose task is to recognize, stabilize and metabolise damaged proteins and a protective and revitalizing osmo action on the skin.
Recommendations for use

PRO : - The only draining face serum. Finally a faithful ally to defeat morning swelling. - In addition to draining your face, DRENUM will work through its niosome to firm and compact the skin. -Easy to apply and easily absorbed.
AGAINST : - On DRENUM I can& 39;t find anything negative.
BABA RECOMMENDS : DRENUM was the start of the LAYLASKIN line. Born of a personal need. A magnificent product capable of solving the problem of facial swelling in a short time. After a "shock" week of application morning and evening, I suggest you alternate DRENUM in the morning and the LIFTHIUM serum in the evening to support the skin and make it more and more firm and compact. My little secret is to use the DRENUM serum also in the eye area before EYE LUMEN and the results are amazing.
Ingredients

AQUA (WATER), GLYCERIN, PYROS SORBUS BUD EXTRACT, MALTODEXTRIN, ETHYLHEXYL PALMITATE, SILOXANETRIOL ALGINATE, CAFFEINE, 1,3- PROPANEDIOL, STEARIC ACID, PALMITIC ACID, COLEUS FORSKOTRY-LAUNDRY, POLYCURY-6 POLYCURY-EXTRACT, POLYCURY-6 , SORBITAN PALMITATE, PENTYLENE GLYCOL, HYDROGENATED LECITHIN, XANTHAN GUM, PARFUM (FRAGRANCE), PSEUDOALTEROMONAS FERMENT EXTRACT, LINALOOL, D-LIMONENE. PAO: 12M
Environmental labeling

Box and leaflet : PAP22 PAPER
Bottle and dropper : GL70 GLASS
Cap : 7 PLASTIC
SEPARATE COLLECTION : Check the provisions of your municipality
How to use
Method of application
After cleansing the face with VITA MEA, PRO SKIN TONER and / or SKIN OFF and after treating the eye contour with EYE LUMEN and / or EYE DRENUM, you can proceed with the application of the DRENUM serum. The DRENUM serum specializes in the lower part of the face. Apply 4/5 drops and always massage from the bottom up, the jaw area, chin, cheeks and neck. Massage vigorously until completely absorbed. Finish your LAYLASKIN ritual with MAESTADE.
When to use
DRENUM can be used morning and evening. If the swelling of the face is persistent, proceed morning and evening with the application of DRENUM accompanied by an energetic massage. If the swelling of the face is only in the morning you can decide to apply the DRENUM serum only in the morning and in the evening continue with one of the other LAYLASKIN serums.
Sensations
With the use of the DRENUM serum and combining it with an energetic face massage you will feel fresh, light and above all deflated. The puffy face sensation will disappear.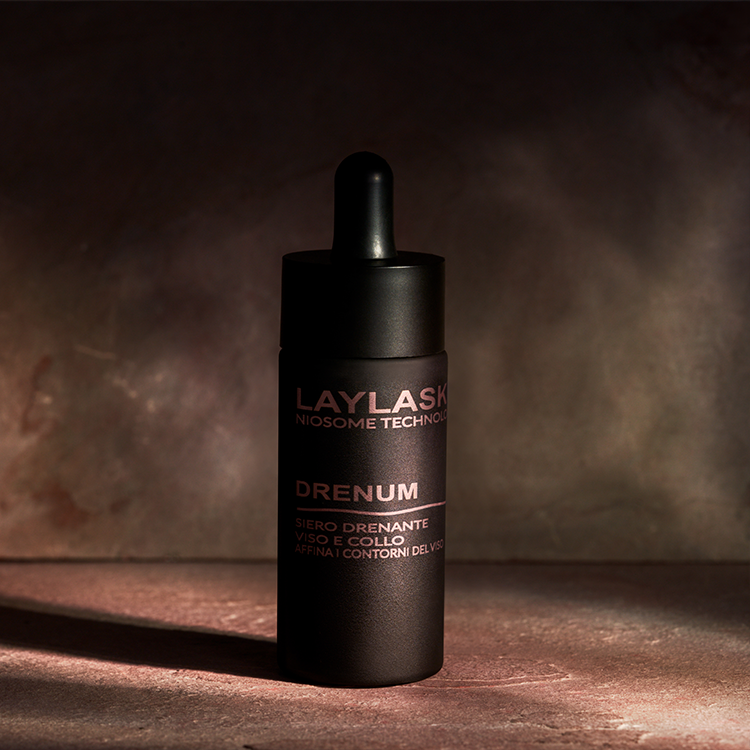 Guaranteed results
Draining effect *
- Increased draining effect thanks to the increase in microcirculation: 64% * Test on 43 volunteers after 28 days of use
Skin elasticity *
- Skin elasticity increase: 80% - Reduction of loss of skin elasticity: 66% * Test on 20 volunteers after 28 days of use
Anti-wrinkle and skin compacting effect *
- Reduction of wrinkle depth: 30% - Increase of skin firmness: 40% * Test on 20 volunteers after 28 days of use
Anti-blue light effect *
- Reduction of hyperpigmentation due to the grape component of sun rays: 60% - Reduction of skin stress caused by radiation: 77% * Test on 30 volunteers after 28 days of use
Ottimo Ottimo!
Come anticipato nel titolo, lo trovo ottimo! La pelle è da subito più compatta, luminosa e distesa. Lo uso in abbinamento alla crema Maestade e credo che il risultato che sto ottenendo sia grazia alla loro combinazione. Solo l'applicatore non è perfetto, non preleva una quantità sufficiente.
Grazie di cuore della tua utilissima recensione, è importante per noi e siamo felici di sapere che sei soddisfatta.
Non male
La consistenza del prodotto mi piace, anche il profumo, packaging notevole. Io ne uso una quantità nettamente inferiore rispetto alle indicazioni lasciate sui social, mi sembra uno spreco, forse sbaglio questo o non faccio un buon massaggio ma non ho notato per ora un grande effetto drenante in viso, speravo meglio
Salve, grazie di aver scelto il nostro drenum siamo felici che le piaccia. Gli effetti migliori si ottengono seguendo le indicazioni che abbiamo dato sul sito e nel foglietto illustrativo che ha trovato nella confezione, usando quindi la quantità di prodotto ed eseguendo i massaggi indicati.