A serum that quickly and effectively reduces skin spots and prevents their reappearance.
Your skin will finally have no more obstacles to glow, it will be even and bright.
Sale price
€37,90
Regular price
Unit price
per
/ 30ml
Dimmi di più

anti-spot

blue light protection

collagen stimulator

depigmenting

exfoliating

genderless

nourishing

pro-age

purifying

suitable for pregnancy

suitable for sensitive skin

uniforming

Anti oxidant

DESMACULA works through two niosomes: the NIO-VCS and NIO-OXY and to a sustained-release alpha hydroxy acid that acts as a peel to ensure greater penetration of the niosomes. Thus, the secret of DESMACULA is the binary action of its active ingredients. SKINPERF™ (sustained-release AHA) prepares the skin by exfoliating it and making it more receptive. Finally, the niosomes will act freely by effectively inhibiting melanocyte tyrosinase. Another key feature of DESMACULA is SPF 50* a sunscreen that can block about 98 percent of UVB rays 1. You will be able to stay relaxed and continue your outdoor activities without anxiety. It's time to fight skin spots with the help of LAYLASKIN. 81% natural.
View full details
Collapsible content
It works because it contains

NIO-VCS NIOSOMA: It is an effective pro-aging and anti-skin spot active ingredient based on the encapsulation of a high concentration of Ethyl Ascorbic acid inside ultra-deformable niosomal vesicles to increase skin bioavailability. It acts as a shield against dark spots and skin aging, enhancing the radiance of the complexion.

NIO-OXY NIOSOMA: It is a niosome that encapsulates hydroxyresveratrol, a molecule effective in the inhibition of melanocytes tyrosinase. It is the perfect niosomatic active for imperfections linked to the activation of melanogenesis. Through the inhibition of the tyrosinase enzyme, it reduces the production of melanin ensuring a visible lightening effect.

SKINPERF™ AHA RELEASER: SKINPERF LWG™ technology provides a progressive and controlled release of AHAs into the skin. It allows you to work at a lower percentage of AHA while maintaining an exfoliating performance similar to products with a higher percentage of AHA. It guarantees a strong exfoliating action creating uniformity and brightness to the skin. It has the power to reduce skin spots and acts strongly on impurities and imperfections such as blackheads. It has no impact on the PH of the skin.

SPF 50: The amount of UVB rays blocked varies according to the product& 39;s SPF (SUN PROTECTION FACTOR). DESMACULA SPF 50 blocks up to 98% of UVB rays 1. (*in vitro test)

BLUE LIGHT PROTECTION: Oily extract of rice and soy. 100% natural active able to protect the skin from immunosuppression induced by UVA radiations by counteracting skin photoaging and to promote the production of HSP (Heat Shock Proteins) whose task is to recognize, stabilize and metabolise damaged proteins and carry out a protective and revitalizing osmo action on the skin.


TOTAL ASSETS-NIOSOMES: 8%

Recommendations for use

PRO:
- Fast-acting depigmentant
- Stimulator of collagen synthesis
- Anti-wrinkle and pro-age action
- SPF 50
- Enveloping scent


BABA RECOMMENDS:
If you want to deal with the problem of spots in the best possible way, use only DESMACULA serum morning and evening, always finishing your ritual with MAESTADE.
Use only DESMACULA for at least 28 days after which you can re-insert the other serums into your ritual.

Ingredients

AQUA(WATER), BIS-ETHYLHEXYLOXYPHENOL METHOXYPHENYL TRIAZINE, DIETHYLAMINO HYDROXYBENZOYL HEXYL BENZOATE,GLYCERIN,ETHYLHEXYL PALMITATE, PROPANEDIOL, PSEUDOALTEROMONAS FERMENT EXTRACT, STEARIC ACID, PALMITIC ACID,PENTYLENE GYCOL, 3-O-ET HYL ASCORBIC ACID, MAGNOLOL, HONOKIOL, HYDROXYRESVERATROL, POLYGLYCERYL-10 OLEATE, POLYGLYCERYL-6 LAURATE, SORBITAN PALMITATE, GLYCOLIC ACID, LACTIC ACID, SODIUM MAGNESIUM SILICATE, CITRIC ACID, XANTHAN GUM, HYDROGENATED LECITHIN, PARFUM (FRAGRANCE), BENZYL ALCOHOL, CITRONELLOL, GERANIOL. PAO: 12M

Environmental labeling

Box and leaflet : PAP22 PAPER
Bottle and dropper : GL70 GLASS
Cap : 7 PLASTIC
SEPARATE COLLECTION : Check the provisions of your municipality
How to use
After cleansing your face with VITA MEA, PRO SKIN TONER and SKIN OFF and after applying the eye contour most specific to your needs (EYE DRENUM or EYE LUMEN) apply DESMACULA.
Apply it all over the face if the spots are widespread and as the only serum.
Apply it on the areas most affected by hyperpigmentation if the spots are confined to one area, in which case on the rest of the face you can apply other LAYLASKIN serums.
Finish the DESMACULA ritual with the MAESTADE cream stick.

DESMACULA should be used morning and evening after cleansing and before MAESTADE

DESMACULA is formulated in a micro-emulsion that gives a soft, fast-absorbing texture. You will be struck by the softness and smoothness while being sommersed by a soothing scent that is effective in relaxing the mind.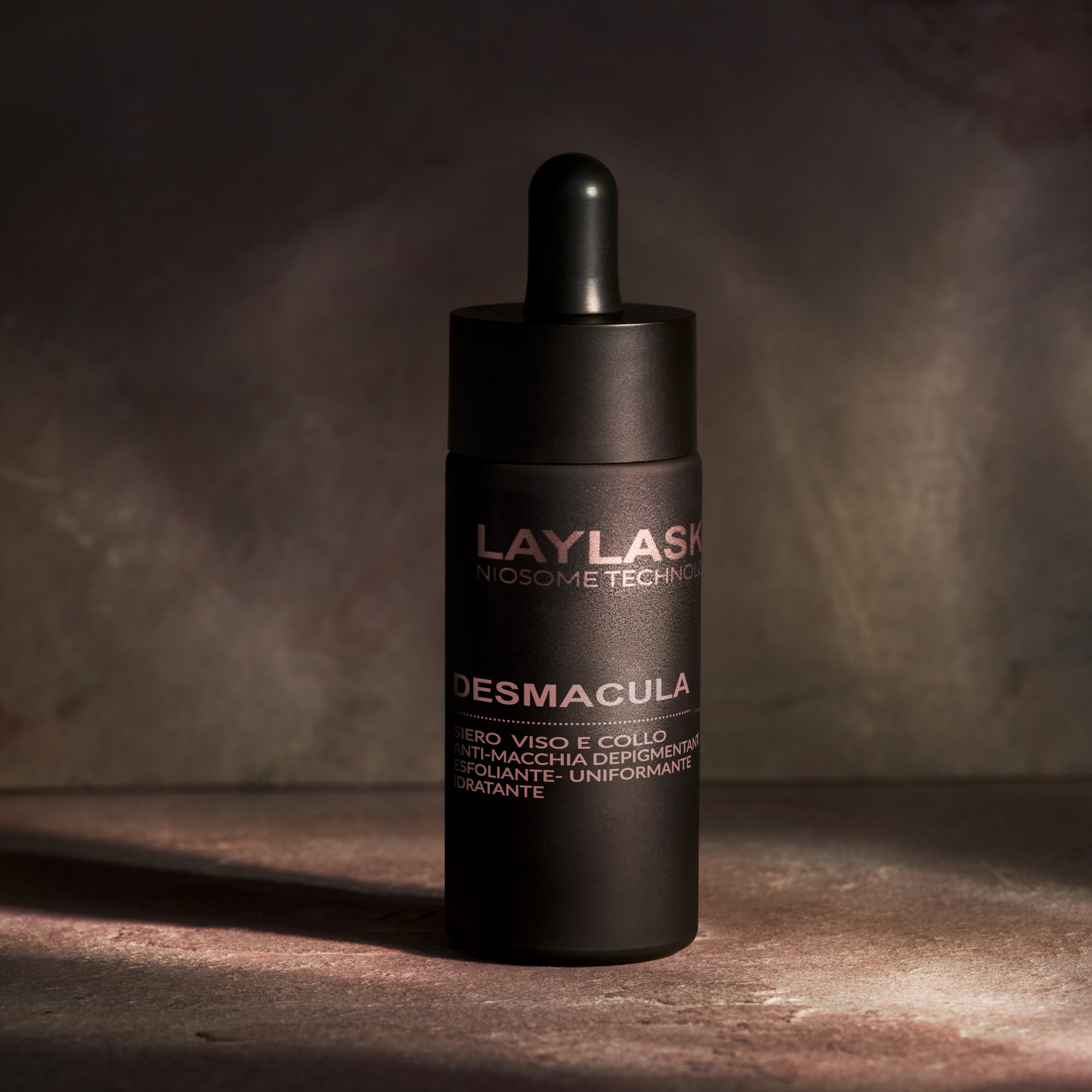 Guaranteed results
Anti-stain effect *

- Reduction of the surface of skin spots: 40%
- Reduction in the number of skin spots: 43%
- Reduction of pigmentation intensity: 70%
- Reduction of skin imperfections (after 14 days): 25%
* Test on 18 volunteers after about 2 months of use


Effect on cell renewal*

- Exfoliation of dead cells: 300%
- Increased skin luminosity: 31%
- Increased skin tone uniformity: 15%
* Test on 17 volunteers after 14 days of use


Skin structuring effect*

- Improves skin texture: 32%
*Test on 18 volunteers after about 2 months of use


Anti blue light effect*

- Reduction of hyperpigmentation due to the grape component of the sun& 39;s rays: 60%
- Reduction of skin stress caused by radiation: 77%
*Test on 30 volunteers after 28 days of use