The Longer The Better Extra Black is the evolution of success. After the classic and blue shades, the Layla Cosmetics mascara evolves to meet the most extreme needs in terms of shades and definition, brought to the maximum possible performance.
Sale price
€15,80
Regular price
Unit price
per
/ 10ml + 70ml
Dimmi di più

The Longer The Better is the only mascara capable of creating strands (technically polymeric filaments) that rest on the lashes, lengthening and volumizing them.
In this new version the filaments are even more pigmented and thick and immediately envelop the lashes for an even more evident and decisive final result even with a single pass.
The increasingly sophisticated technology that only Layla Cosmetics can boast in the world today allows you to wear absolute black on your lashes and exhibit the typical definition of eyeliner.
Extra Black can be layered, does not weigh down the lashes, does not stick them and easily removes make-up. An innovative and extra black product that exploits the already surprising capabilities of the previous versions making them even more performing!
View full details
Collapsible content
Funziona perché contiene

The Longer The Better Extra Black mascara è il segreto per ciglia lunghe e voluminose che faranno girare la testa a tutti! La sua formula innovativa crea filamenti polimerici che avvolgono le ciglia, regalandoti uno sguardo intenso. Con una sola passata, le tue ciglia saranno al centro dell& 39;attenzione. Questo mascara è un vero trucco di magia, stratificabile senza appesantire le ciglia, e il suo nero intenso ti farà sentire irresistibile!

Vita Mea latte detergente è qui per coccolare la tua pelle e farla splendere come mai prima. Rimuove delicatamente il trucco e le impurità quotidiane, lasciando la tua pelle fresca e idratata. Grazie all& 39;estratto d& 39;orzo, all& 39;olio di jojoba e al niosoma NIO – TROX, la tua pelle sarà pronta per brillare. Questo latte detergente è adatto a tutti i tipi di pelle, quindi preparati a una pelle radiosa .

Consigli d'uso

PRO:
– More pigmented and thicker filaments
– Extra black colour
– The mascara wraps well on the lashes and the filaments do not fall out
– Even more decisive and sophisticated effect with a single pass
– Also suitable for contact lens wearers as it has no fibers inside


VERSUS:
It is not a waterproof product


BABA RECOMMENDS:
Try to layer it even hours after the first application. Does not create lumps, increases the volume of the lashes and lengthens them. Nevermore without!
Ingredienti

AQUA (WATER), PROPYLENE GLYCOL, STEARIC ACID, SORBITAN STEARATE, PALMITIC ACID, PPG-3 Hydrogenated Castor Oil, CERA ALBA (BEESWAX), Hydroxyethylcellulose, PEG-90M, PEG-14M, STYRENE/ACRYLATES COPOLYMER, DIMETHYLSILOXANE, TRIETHANOLAMINE, IMIDAZOLIDINYL UREA, PROPYLPARABEN, SODIUM DEHYDROACETATE, METHYLPARABEN, ETHYLPARABEN. +/-:CI77007 (ULTRAMARINE BLUE), CI 77891 (TITANIUM DIOXIDE), CI 77499 CI 77491 CI 77492 (IRON OXIDES) PAO:12M
Etichettatura ambientale

Bottle: 7 PLASTIC

Capsule: 7 PLASTIC
Recycling. Check the regulations of your municipality.
Come si usa
The Longer The Better

Il prodotto è formulato con due resine polimeriche idrosolubili. A contatto con l'aria il mascara si addensa creando fili. (Sono simili alle classiche fibre ma si tratta della pasta stessa del mascara).

Apri il mascara, crea aria nel flacone sfilando ed inserendo più volte lo scovolino ( velocemente).

Quando vedi comparire i fili, applicali sulle ciglia stratificando a tuo piacere anche fino a tre passate.

ATTENZIONE IL PRODOTTO PUÒ SEMBRARE VUOTO MA NON LO È. SFILA E INSERISCI PIÙ VOLTE LO SCOVOLINO PER CREARE FILI.

Dopo la chiusura (non essendo più a contatto con l'aria) il mascara ritorna allo stato cremoso iniziale.

Vita Mea
Usalo mattina e sera quotidianamente. Applica VITA MEA su viso, collo e décolleté con le mani esercitando un leggero massaggio circolare.
Rimuovi l'eccesso con un dischetto di cellulosa/cotone imbibito d'acqua fresca. Prosegui necessariamente con PRO SKIN TONER e/o SKIN OFF prima di procedere con il tuo rituale LAYLASKIN.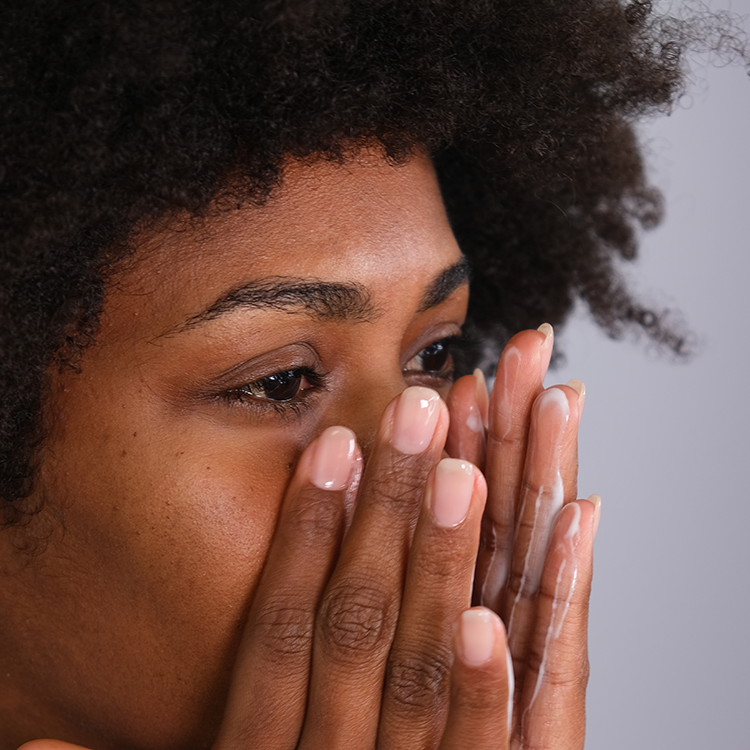 Risultati garantiti
VITA MEA
Effetto lenitivo anti-irritante*

- Riduzione del rossore cutaneo dopo 30 giorni: 25%
- Riduzione del rossore cutaneo dopo 60 giorni: 45%
* Test su 20 volontari


Effetto idratante*

- Aumento dell'idratazione: 20%
*Test su 20 volontari dopo 28 giorni di utilizzo
IL MIGLIOR MASCARA DI SEMPRE
lo uso da quando è stato creato, non ho altri mascara all'infuori di lui! Leggero sulle ciglia ma allo stesso tempo potente come colore e come risultato! E a fine giornata niente effetto panda. Ottimo il nero e l'extra nero, bellissimo il blu, ma attendo il marrone, se mai arriverà!
Grazie delle tue bellissime parole, ci fanno tanto piacere.