Skip to product information
Sale
Cat Eye, new Layla Cosmetics semi-permanent magnetic gel polish, three-dimensional reflections like crystals of light that give life to iridescent shades.
Color: silver movelight effect.
Sale price
€8,25
Regular price
€11,00
Unit price
per
/ 5ml
Dimmi di più

nickel tested

tpo free

Big 6 free

Layla again invites you to experiment and dare with special effects manicures but above all to get to know each other in depth to rediscover yourself as a winner. Cat Eye focuses on originality and freshness, creating a fascinating suggestion of the feline iris on the nails and suggesting the character characteristics of cats to the enthusiast. Not only the merits, even the defects because sometimes a healthy selfishness is liberating and a pinch of laziness is the gift to be granted.

Cat Eye is compatible with all Layla and Layba semi-permanent nail polishes.
View full details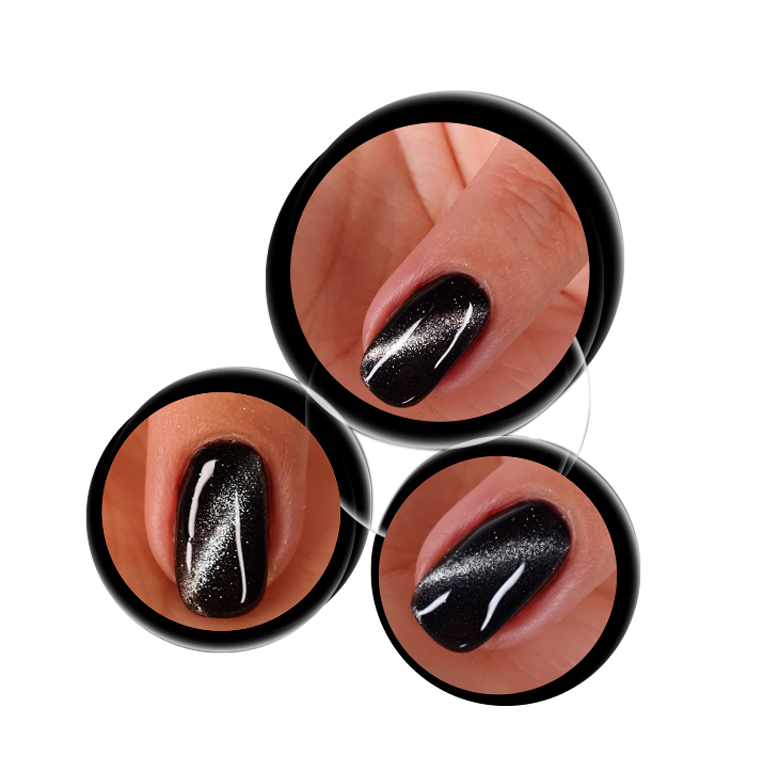 Collapsible content
Recommendations for use

Pros : unlike older generation magnets, they are very easy to use and magnetize the enamel in less than a second without having to get too close to the nail. The supplied magnet is very powerful and has two ends with which to create infinite shades!


Cons: for a really "wow" effect, they should be applied on dark colored nail polishes.


Baba advises: Don& 39;t just put the magnet in the classic vertical or horizontal position, rather turn it to combine the effects. Don& 39;t set limits to your imagination, to get amazing nail art use more than one color on the same nail!

Ingredients

DI-HEMA TRIMETHYLHEXYL DICARBAMATE, HEMA, HYDROXYPROPYL METHACRYLATE, ETHYL TRIMETHYLBENZOYL PHENYLPHOSPHINATE, PEG-9 DIMETHYLACRILATE, HYDROXYCYCLOHEXETYL PHENYDONE, PEG-9 + / - / MAY CONTAIN: CI 77891 (TITANIUM DIOXIDE), CI 60725 (VIOLET N.2), MICA, CI 74160 (PIGMENT BLUE N.15), CI 15850 (RED N.6, RED N.7), CI 77491 CI 77492 CI 77499 (IRON OXIDES). PAO: 36M.
Environmental labeling

Bottle: GL70 GLASS

Capsule: 7 PLASTIC
Recycling. Check the regulations of your municipality.
How to use
•Prepare nails with buffer, pre gel and primer.
•Apply the shiny top coat base and cure in a LED lamp for 60 seconds.
•Apply any color of semi-permanent nail polish and let it polymerize in the lamp, for a semi-transparent effect instead go directly to the next phase.
•Apply the cat eye polish and lay the magnet over the nail being careful not to touch it, choose the desired effect by moving the magnet to your liking. If the effect doesn& 39;t satisfy you, you can also make a second pass of cat eye, magnetize again and finally polymerize in a LED lamp for 60 sec.
•Apply the top base and polymerize in the lamp for 60 sec.
• Degrease your nails with a cellulose pad and your favorite Layla degreaser.

Compatibility: "Cat Eye" is compatible with all Layla and Layba semi-permanent nail polishes.
PERFETTO
Da tempo volevo provare l'effetto cateye e sono rimasta pienamente soddisfatta. Con sfondo nero risalta ancora di piu, ma il mio metodo preferito resta: 1ª passata normale, 2ª passata con calamita. MERAVIGLIOSO! 🌟
Grazie mille ci fa tanto piacere!
la meraviglia!
ad ogni unghia, con ogni colore, si scoprono nuovi effetti stellari! Stupendo!
Grazie di cuore, siamo felici che ti piaccia <3
Divino
Colore STUPENDO. Non riesco più a fermarmi, li prenderei tuttiiiiiiiii.
Ciao Cristina, grazie di cuore delle tue parole. Un abbraccio dal team Layla
N. 1 RULE rules!
Ho visto i Cat Eye durante le dirette della pagina Instagram (che ho guardato più volte per capire come funzionassero) e devo dire che mi hanno catturato! Fino ad ora ho usato il N. 1 Rule e il N. 8 Greedy per realizzare una manicure che richiami il Natale, ottenendo un risultato bello con il minimo sforzo. Il numero 1 nello specifico ha un colore pieno e ricco. Bastano solo due mani per avere un risultato perfetto ed un effetto tridimensionale pazzesco.
Ciao Rossana, grazie di cuore delle tue parole, per noi sono un regalo grandissimo. Un saluto da tutto il team Layla.
Spettacolare
Ho acquistato il numero 1 e il numero 7.
il numero uno l'argento è spettacolare fa degli effetti stupendi il numero 7 non si vede tanto.. non ho ancora capito con che base metterla per far si che si veda.. farò delle prove
Ciao Sarah, grazie di cuore di aver scelto i nostri cat eye e della tua recensione. Il numero 1 è un argento effetto movelight. Il 7 dà il meglio di sè su basi scure, ma per effetti più particolari e delicati puoi usarlo anche su colori più chiari, come rosa, lilla o anche azzurro. Non mettere freno alla tua fantasia! Se hai bisogno di consigli, siamo sempre disponibili anche in direct nella nostra pagina instagram.